Many students panic when their college professor asks them to write a synthesis essay. But once they realize that all it takes to write the one and get a high mark is some planning and research, they easily get motivated and start writing. If you are one of the students who doesn't know how to go about writing a synthesis essay, we have outlined the necessary steps you need to take to make sure you write a quality paper.

What is a Synthesis Essay?
Most of the difficulty in writing a synthesis essay lies in the fact that many students don't know what it is. When synthesizing something, you put different parts together to make a whole. So a synthesis essay is one that takes different viewpoints from multiple sources to support the main argument.
Types of Synthesis Essays
During your college career, you might be asked to write one of two types of synthesis essays: an argumentative and explanatory synthesis. Just be sure to clear it with your professor which one he or she wants you to write in case you are not sure.
Argumentative Synthesis Essay
In an argumentative synthesis essay, you, as the author, take a stance on a particular position and present it to the reader. Then, you gather information from various sources in an attempt to support the position you have taken. This position should be debatable so that reasonable people can disagree with you and use the same sources to come up with opposite views of their own in a logically consistent manner.
Explanatory Synthesis Essay
In an explanatory synthesis essay, you don't aim to argue any position like in an argumentative synthesis but try to make the reader understand a particular topic. All you do is gather facts from different sources and then present them to the reader, fleshing them out in a way that will make them comprehend what you are talking about. However, the topic you choose must still be debatable.
How to Write a Synthesis Essay
After reading this section, which contains the steps to write a synthesis essay, you will discover that it is just the same as writing any other essay. This means there is no cause for panic. Before proceeding, make sure you understand all the requirements of the assignment you have been given by reading the prompt carefully.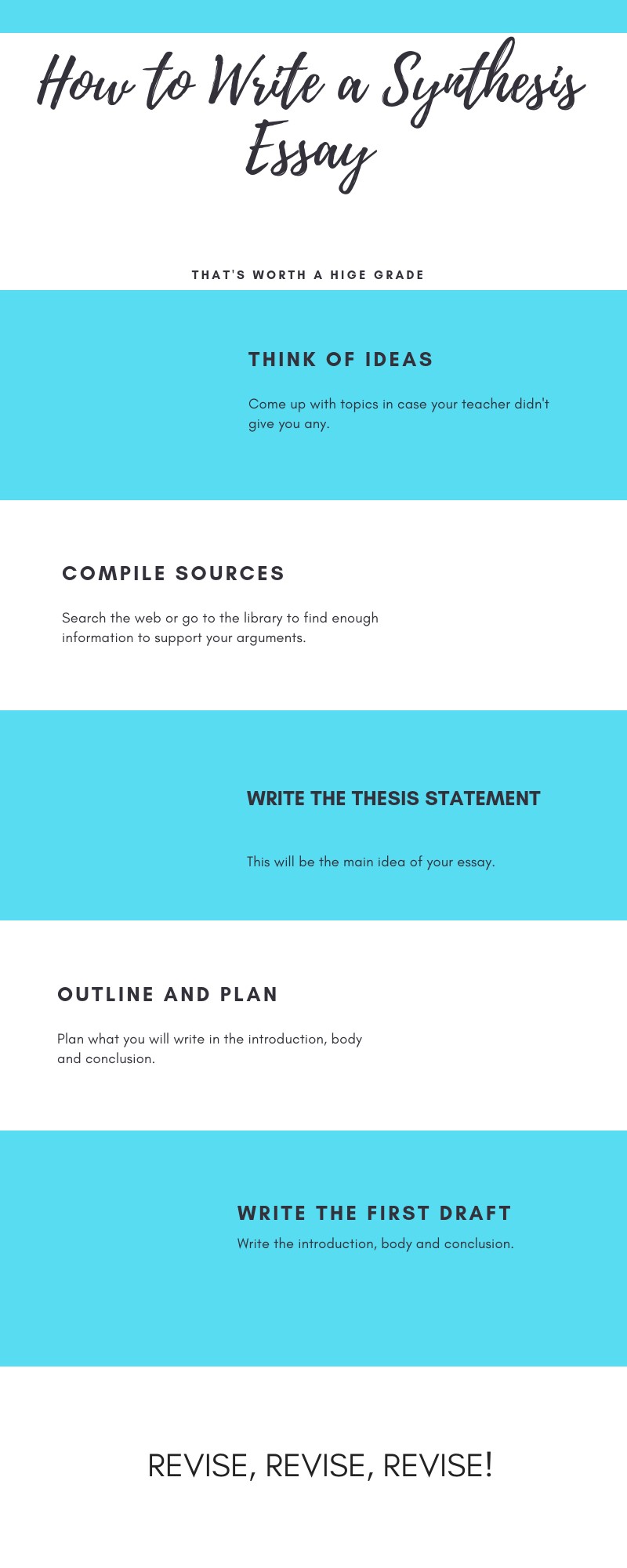 Think of Ideas
Sometimes, your teacher will not give you a topic and will expect you to come up with one yourself. While this gives you the freedom to choose, it can also be overwhelming to actually come up with the topic. Ideally, you need to find a topic you think would be easy to write. This means that if you go online, you should be able to find enough information to compose 3-5 paragraphs to lay down your argument and support it.
If you want a list of topics to write about, here are a few examples:
Is Tertiary Education Needed for People to Make it In Life?
How Has Social Media Impacted the Lives of College Students?
Is China's Investment in African Modern-Day Colonialism?
Is the Fashion Industry Built on Superficial Trends?
Is the Death Penalty Necessary?
Can Foreigners in America Live the American Dream?
Can Intelligent Extraterrestrial Life be Considered as People with Rights?
Why is Racism Still Alive in Modern Times?
Can Businesses Refuse Services to Homosexuals Based on Religious Grounds?
Will Poverty Ever End?
As you can see, all these topics are debatable, which is good. Never pick a topic that every reasonable person will agree with. No one wants to be convinced that cold-blooded murder is a bad thing or debate about it – we can all reasonably agree that killing someone in cold blood is wrong.
Compile Your Sources
This step involves searching the Internet and a library for relevant sources. Once you have gathered enough, read through them to determine whether they are relevant to the subject matter of your topic. While reading the sources, take notes of any ideas and points that can be used to support your synthesis.
Write a Thesis Statement
The thesis statement is regarded as the main idea of your paper. It is comprised of one or two sentences that talk about the topic and what your assertion about the topic is. You can insert the thesis at the beginning of the introductory paragraph, but it is always a good idea to put it at the end in order to transition the reader into the body.
Outline and Plan the Essay
Just like any other essay, the synthesis essay will consist of an introduction, body, and conclusion. With this outline in mind, you can go ahead and plan how you can present the information to the reader and explain how it relates to the sources you have gathered.
Write the First Draft
With your plan in mind, start composing the essay. Keep in mind that you may discover new ideas or find that your viewpoints have changed a little, so be a little flexible with the content for the good of the essay. As long as what you are writing supports your thesis statement, you have nothing to worry about.
Revise the Essay
With your first draft is complete, it is time to work on making the paper as perfect as it can be. First, read through the paper and ensure that everything makes sense and that sentences flow logically from one to the other. And make sure the conclusion accurately summarizes your main argument and ends the essay on a high note, leaving a lasting impression on the reader. Afterward, read the essay again to make sure there are no grammar or spelling mistakes.
Once you follow the above-outlined steps, you will be well on your way to writing a synthesis essay that will bring you a high grade. However, if you are still having trouble writing the one, you can order research paper by using custom essay services. These services allow you to buy essays online cheap that are written by professionals. Once you place your order, you can rest assured that your paper is in good hands.